Rules & Regulations
PINE TREE COUNTRY CLUB ESTATES, INC. RULES AND REGULATIONS

This document is promulgated pursuant to Article IV, Section 5 of the Association's By-laws

1. OBSERVATION OF RULES
Ch. 720.305(1), Florida Statutes, states in part, "Each member and the member's tenants, guests, invitees,
and each association, are governed by, and must comply with, this chapter, the governing documents of the
community, and the rules of the association..." If any member, their tenants, guests or invitees violates any
provision of the documents or the reasonable rules and regulations of the association, after complying with
certain statutory requirements a member's use rights such as the RFID decal may be suspended, and
reasonable fines of up to $100 per violation may be levied against a member, or their tenants, guests, or
invitees, up to a maximum of $1000.

2. COMPLAINTS ABOUT PROPERTY MANAGEMENT OR GATE GUARDS
An owner, tenant, guest or invitee may not discipline or verbally abuse Property Management or Gate
Guard personnel. Gate Guard complaints should be directed to the Board Liaison of the Gate Access
Committee. Property Management complaints should be directed to the President of the Board of
Governors.

3. HOURS OF OPERATION – CONTRACTORS AND MOVING
The hours of operation for contractors and service providers are from 7:00 A.M. to 6:00 P.M., Monday thru
Saturday during daylight saving time, and from 7:00 A.M. to 5:00 P.M., otherwise. No work is permitted
on Sundays or legal holidays. Moving is permitted from 8:00 A.M. to 8:00 P.M. Exceptions must be
approved by the Chairperson of the Gate Access Committee or the President of the Board of Governors.
Emergencies are always accommodated.

4. HOURS FOR APPLIANCE & FURNITURE DELIVERIES
Appliance and furniture deliveries are permitted Monday through Saturday from 7:00 A.M. to 7:00 P.M.
On Sundays, appliance and furniture deliveries are permitted from 10:00 A.M. to 7:00 P.M. No exceptions.

5. SOLICITING
Solicitation by persons or by flyers placed in/on mailboxes, on vehicles or attached to street signs are
prohibited, charities included.

6. ENTRY ACCESS LIST
Owners, and approved renters or extended visitors (over 30 days) must provide a list to the guardhouse of
their routine guests and vendors, updated as required, and call the names in advance of anyone not on the
list. Call the automated guest line at

(561) 737 5004

.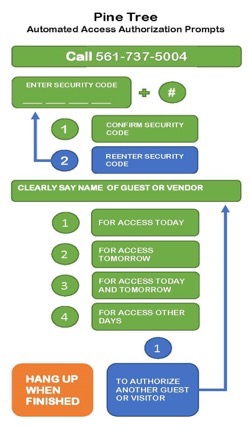 7. RFID DECALS
A decal(s) may be issued to a renter after the owner has submitted an application, a copy of the leasing
agreement, and the President has signed an Approval of Occupancy. If an owner vacates their home in the
Estates and leases another in the Estates, under certain conditions they may retain their RFID decal for as
long as they own the first home. For inquiries or additional information regarding RFID decals, contact
Ryann Hopkins at JMD by calling

(561) 265 3272

or by email at

[email protected]

.

8. ASSESSMENTS
Two types of assessments are levied by the Board of Governors: a semiannual assessment for Gate Access
and the Estates operations (based on improved lot status) divided into two installments due January 1 and
July 1 as well as Reserve assessment due January 1 & July 1 (February 15 and October 1 dates used for
2020 only). Florida Statutes provide that if any owner is delinquent for more than 90 days, certain common
area use rights (RFID decal) of theirs, or their tenants, guests or invitees may be suspended and reasonable
interest in the amount of 18% per annum may be applied along with any legal fees incurred should the
account be turned over to collections.

9. CONFIDENTIALITY OF INFORMATION
Association membership rosters and all related information are for the personal use of members, and the
association. Do not provide this information to any unauthorized person or organization.

10. VEHICLE OPERATION
The posted speed limit is 25 miles per hour. All STOP signs and speed humps must be observed. Use
extreme caution when approaching walkers, joggers and children in the area. Failure to comply may result
in deactivation of RFID decal.

11. VEHICLES
Unless they can be stored in an enclosed garage, the following vehicles are prohibited from overnight
parking in Pine Tree if visible from the street:


a. Commercial vehicles or those showing or displaying any commercial, charitable or institutional markings, signs, or displays indicating a commercial or other non-personal use.
b. Vans, other than passenger minivans which must have windows on all body panels and be designed and used to transport passengers.
c. Trucks of any type including pick-up trucks, and any vehicle with a passenger cab and cargo bed, whether covered or uncovered, with or without a bed top. "Cargo bed" is a vehicle with a bed exposed to the elements or covered by a top.
d. Any boat or boat trailer, with or without a boat, or other device which can be towed.
e. Semi-tractors or tractor trailers.
f. Vehicles which are not operable or licensed for use, e.g., golf carts, mopeds.
g. Truck-mounted campers attached or detached from the truck chassis.
h. Noisy or unsightly vehicles.
12. ARCHITECTURAL REVIEW COMMITTEE
Architectural changes which include exterior or landscape improvements require prior written approval of
the committee in advance of execution, e.g., new construction, remodeling, landscape changes, pool
construction, roof replacement, painting, driveway replacement. An application should be submitted to the
Architectural Review Committee for review and approval. For information on applications or any
additional information, please contact Diane Tramonte at JMD by calling

(561) 265 3272

or by email at


[email protected]

.

13. PROPERTY MAINTENANCE
Owners are required to maintain their roofs, driveways and exteriors in a good state of repair and
appearance. All lawns and landscaping must be trimmed and provide a neat appearance, and overhanging
trees trimmed to allow a minimum of fourteen feet overhead clearance from the road surface. Management
conducts monthly inspections of the community, and a fine may be levied or decal use rights may be
suspended for violations.

14. DAMAGE TO ASSOCIATION PROPERTY
Cost for damage(s) caused by any homeowner, their family, their guests or their contractor/vendor is the
responsibility of the homeowner. These damages include but are not limited to anything belonging to the
Association, gate arms, and/or guardhouse equipment.

15. MAILBOXES
The mailbox, post and numbering system must be the type, size and color specified by the association.
Initial mailboxes are ordered by the association. Replacement or repairs are an association expense, but
should be reported to Management by email at

[email protected]

.

16. LIGHTING
Outside post lights must be operational with a photocell or timer to provide lighting from dusk to dawn.
Homes without a post light must provide some exterior lighting from dusk to dawn, and are encouraged to
install a post light.

17. FLAGPOLE INSTALLATION
Florida statutes allow for the display of certain flags, subject to all building codes, zoning setbacks, other
governmental regulations including noise and lighting ordinances, and to all setback and location criteria
contained in Pine Tree's governing documents. Organizational flags may be flown beneath the American
flag. Prior to installation of a flagpole, an application form is required to be completed and submitted,
which may be obtained from the management company.

18. LAUNDRY
Hanging laundry or other materials outside is not permitted.

19. SIGNS
Excluding licensed contractors temporarily working in the community; no sign, notice, or advertisement
may be displayed anywhere in Pine Tree Estates unless approved by the president of the board.

20. VACANT LOTS
Driving or parking any vehicle, licensed or unlicensed, or dumping grass or tree cuttings, trash or
construction debris is prohibited on vacant lot.

21. WASTE MATERIAL PICK-UP
The Solid Waste Authority (561.697.2700) schedules a pick-up on Wednesdays for trash/garbage and
recyclables, and Saturdays for trash/garbage, vegetation, and bulk pickup (bulk pickup is as early as
7:00A.M.). Materials should not be set out before 6:00 P.M. the evening before. Except for tree trimmings,
landscape debris must be bagged. Garbage must be placed in an enclosed container, not in plastic or paper
bags and empty containers should be retrieved as soon as possible. Placing anything on a vacant lot is
strictly prohibited. You must call SWA (561.697.2700) for removal of large piles of vegetation and bulk
items.

22. REAL ESTATE TRANSACTIONS
a. When listing property for sale or rental, an owner must notify the gatehouse and the management
company, and provide the contact information of the listing Realtor, if applicable.
b. An "Available" sign is the only one permitted and may be obtained at the gatehouse for a refundable
charge if returned in usable condition. It must have the listing agent's phone number.
c. The owner or listing Realtor must register prospective buyers, renters or any Realtors with the
gatehouse. If not, one call will be made and if the owner is not available, entry will be denied.
d. "Open House" showings are allowed if the gatehouse is notified in advance of the date and time, and if
prospective buyers, renters and visiting Realtors have been preregistered. Unregistered access is not
permitted. Realtors must show a photo ID, their Real Estate license and provide a business card to the
Gate Guard.

23. ASSOCIATION WEBSITE
Pine Tree website is located at https://www.pinetree33436.com/. In order to view and have access to
majority of the items on website, a login must be created. To create a login, go to website link, and click
on the type right corner where it says "register". Follow prompts to setup account, and one of the
website administrators will accept your request in order to gain full access to the website including:
Important Information for Residents, Community Events, Association Documents, Committee Information,
Homeowner's Open Forum, and more!

24. SEMI TRUCKS - IMPORTANT INFORMATION FOR MOVERS, CONTRACTORS, AND DELIVERY SERVICE PROVIDERS: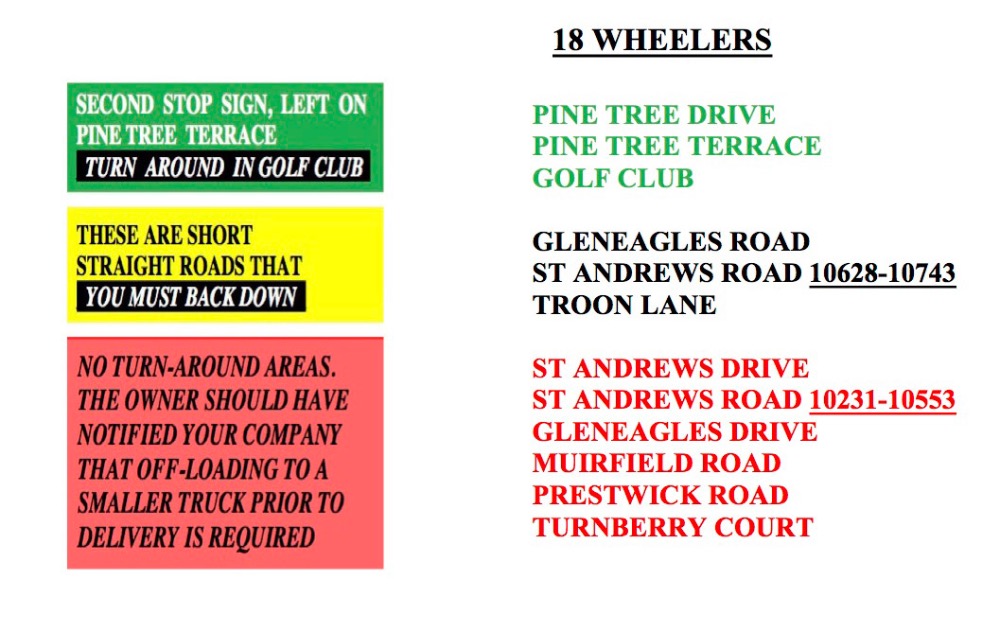 *DAMAGE TO EITHER PINE TREE OR AN OWNER'S PROPERTY IS YOUR FINANCIAL RESPONSIBILITY AND YOU ARE REQUIRED TO REPORT IT TO THE GATE HOUSE.*

25. RENTALS & EXTENDED VISITS (over 30 days)
Prior to occupancy by a renter or extended visitor, an owner must submit to the management company an
application on an association-approved form together with the required documentation, including a copy of
the leasing agreement. Without HOA approval of a completed application, the gatehouse will be instructed
to deny entry to any homeowner's guests, contractors, tenants or extended visitors. Further, no Application
for Rental or Extended Visit will be considered for approval for properties with either a delinquent
assessment or a documented violation of the governing documents or rules and regulations. Occupancy
may not occur until the application has been approved by the association. Assignment or subleases are
prohibited. Contact Diane Tramonte at JMD by calling

(561) 265 3272

or by email at


[email protected]

forms and instructions.